October 2014
Chairman's Chat
Hello Everyone,
I do hope you all had a relaxing break over the summer and are now raring to get started on the autumn/winter programme.
Since the last edition of our Newsletter, we have visited Bishop's Bells 30th Anniversary Rally at Meonstoke. Everyone was obviously having a good time, and the Midsummer Rally at Bedfont, run by St. James H R, Weybridge. This was a superb example of a 'local' rally. These mini invitation only rallies are quite easy to organise. All you need is a hall and some teams! Anyone deciding to organise one, just let our Secretary (Sandra) know, and it will be treated as an HRGB event. This means that the rally will be covered by our insurance.
There was also the Ice Cream Rally in Aldershot, where tables were decorated depicting the summer/sea theme. We listened to several team solos, and a solo solo by Carol and then by Helen. It was also good to hear duets. We are used to Alan and Gay, but here we also heard Duo Decimus (Sandra and Angela). Well done to everyone (including the ice cream collectors!)
Our next event is the East Kent Rally on 4th October, followed by the rehearsal at Broadwater School and the Festival Service at Guildford Cathedral. If you are not taking part this year, please consider coming and listening to us. It is at 3.00pm, so better for travelling!
Our Birthday Rally on 10th January 2015 is being hosted by All Saints Warlingham, at the de Stafford School, Caterham. The application form should be included with this Newsletter.
St. Lawrence Chobham HR, recently held 2 concerts in Woking, to raise money for the refurbishing of their handbells. We thoroughly enjoyed the one we went to, but it was a pity there were not more people in the audience. Well done to Sway, who came all the way up from the New Forest to support!
Happy Ringing!
Valerie Boon
September 2014
UK Bronze Concert 1 Nov 2014
Make a date in your diary to come to the concert at 3 pm on Saturday 1st November 2014. It will be the culmination of four days hard work by ringers attending UK Bronze under the direction of Fred Gramman. Don't miss it! Tickets at £5 each. Contact Keith Rowland for details on 01252-409438/07912-352634 or #
It will take place in the Holiday Inn Hotel, Gibson Road, Sutton, Surrey, SM1 2RF. (1st floor conference centre.)
August 2014
Organising a mini rally
Have you ever thought of organising a mini rally for your local teams? I did this last year primarily aimed at some local teams who do not come along to rallies, often because they feel apprehensive about ringing with large numbers of people. We, at St James Weybridge, have just hosted our second such rally which 35 people attend and from the write up below I am sure you agree that they thoroughly enjoyed the day once again.
Restricting the number of ringers by making it an invitation only event it means that smaller venues with less parking can be used which helps keep the hall hire cost down. Music can be selected from the Regional List and you may be surprised at the willingness of ringers to conduct the pieces on the day. We have had four conductors for each Rally who would not normally have conducted at larger events.
If you would like to organise a similar rally in your area but are unsure how to go about it please give me a call and I will be most happy to talk it through with you and assist with the organising.
Alan Sharps 01784 244665
HRGB South East Region Mid Summer Rally 2nd August 2014
Well, Alan Sharps has done it again! Following the success of his mini rally last summer, Alan has inspired us with another brilliant day of bell ringing - much of it arranged by our own region's talented musicians: Sandra Winter and Angela Jones. Hosted by St James' Weybridge, the event was attended by five friendly and enthusiastic teams, and we were delighted that John and Valerie Boon were able to join us for part of the day.
We were thrilled to hear from Phillipa about Chobham's efforts to raise £7,500 to refurbish their bells, and we were impressed to discover that they are almost halfway to their target. Many of us bought copies of their fund-raising Macro Quiz to support them in this venture.
Thank you to everyone who helped make the day possible. We can't wait for next year's mid summer rally, which Alan promises will be even bigger and better!
Mary Jones (Dronfield Handbell Ringers, NE Region) and Alison Pearce-Kelly (St Mary's Bedfont)
A longer version of this article will appear in our printed newsletter
June 2014
Please join us for a wonderful and varied evening of music to help us give some much needed TLC to our hundred year old bells so that we can raise money for children's charities once again.
Two concerts are to be held, the first at St Lawrence Church, High St, Chobham, GU24 8AA, on Friday 18th July at 7.30pm. The second at St Andrew's Church, Goldsworth House, Woking GU21 3LG on Friday 25th July at 7.30pm
Making Music
The charity "Making Music",www.makingmusic.org.uk, has contacted us to ask whether teams would be able to raise money for them at their Christmas concerts:
Although December seems a long way off, we know you plan well ahead. And with this little bit of advance notice, we hope many more of you will consider holding a Making Music fundraiser in December 2014.
The money raised will go towards supporting and championing amateur music across the UK and ensuring as many people as possible can benefit from it.
It really is easy to do. We have put together a fundraising 'toolkit' including leaflets, stickers, collection buckets and information. And where possible, someone from Making Music will attend your event to talk about our work and the difference your donations will make.
If your group is able to hold a collection for Making Music in December, please contact me on ralph@makingmusic.org.uk to let me know the date and location. I'll do the rest! And of course Making Music will give extra publicity to your event in return.
With warmest wishes,
Ralph Kennedy
Head of Operations and Development
Chairman's Chat
Hello Everyone,
I do hope all those of you who attended the National Rally, had an enjoyable time. Congratulations to Tim Willetts, who is now the Chairman of HRGB. I wonder what it will be like having the 'main man' in our Region?
You may have seen in the last edition of Reverberations, that I have taken over the 'Young Vibrations' section of the magazine. Please, please, please, if you have any junior members in your teams, encourage them to send me reports of any rallies or concerts etc. that they participate in, or any requests for things that would interest them. So far for the next edition I have received 2 items - but not from the South East!!
I have just returned from the SERBO Concert at Redhill. It was a superb afternoon, with a very mixed selection of music. I think my favourite piece was the Cold Play number 'Viva la Vida'. Congratulations to all involved with the performance.
Our next event is the Bishop's Bells 30th Anniversary Rally on 14th June, and then the 'Ice-cream + flake!' Rally on 28th June in Aldershot. I hope to see many of you at both these events.
With this Newsletter you should find application forms for the Ringalong Day on 13th September, and the East Kent Rally on 4th October.
The Cathedral Festival Service is to be at 3.00pm. Set-up timings will depend on the time we can get into the Cathedral, and that is still being looked into. These timings are going to be quite tight, and full details will be with participating teams as soon as possible.
We are still looking for a team to volunteer to host the Birthday Rally on 10th January. Because no one has volunteered since my last request, I am wondering whether or not you want a free rally!
Happy Ringing! Valerie Boon
May 2014
Guildford Festival Service, Nov 8th, time now confirmed for 3pm
April 2014
Chairman's Chat
Hello Everyone,
We have just returned from the thoroughly enjoyable 'Welsh Rally' at Sanderstead, and grateful thanks go to Sandra, Martin and the Wandle Ringers, for hosting us. Some teams dressed up in Welsh costumes, and many had decorated their tables in some way. In fact a couple of teams had so many Welsh items on their tables there was hardly room for the bells!
The AGM was held at this Rally, the Minutes and Accounts for which will be in our May Newsletter. The Chairman's Challenge for last year was calculated from 7 events held in the region. 47 teams were represented at these. Greywell, Llamas and St. Lawrence, Chobham, attended 4 events, and St. Mary's, Teddington and Pilgrim Ringers attended 5. St. Mary's Teddington were the winners because they had more members attending overall. Congratulations to them!
We were very pleased to welcome Alan and Margaret Hartley to this Rally. Alan is retiring from being our National Chairman for the last 18 years, at this year's National AGM, and is busy trying to visit every region before then.
Do look out for the publicity for the Bell Orchestra Concert on 10th May at Redhill - you can always be sure of a good afternoon's entertainment.
I do hope that you have all booked in for the Bishop's Bells 30th Anniversary Rally on 14th June, and with this Newsletter there is the form for the Summer Rally on 28th June in Aldershot - we look forward to the ice-cream + flake!!
At the time I am writing this, the Cathedral have agreed to us moving our Festival Service to the afternoon - full details will be notified as soon as possible.
We are looking ahead to 2015, and very much hope for 2 volunteer teams! One to host the Birthday Rally on 10th January, and one to host the Rally and AGM on 7th March. Please don't just ignore this request. Give it some serious thought, and let myself or Sandra know who is willing to help us as soon as possible.
Valerie Boon
What do YOU want to do???
We are thinking of running a Workshop Day in 2015, and would like to know what type of workshops you would like to have.
Please send your ideas and suggestions to Milda Laycock, Carrick, Crossways Road, Greyshot, Hants GU26 6HG milda.laycock@talk21.com
March 2014
Gay and Alan entertain Willi-i-am
Our own Gay and Alan featured on television again, this time in "The voice: louder on two", on BBC 2 on Friday 28th March. They played an arrangement of one of his own songs to Will-i-am to great applause and merriment. Watch the clip on iplayer now.
Dorothy Shaw Bell Choir
Amazing young handbell ringers from Dallas,Texas are touring Britain in March and are giving a concert on Sunday, 9th March at All Saints Church Hall, Onslow Gardens, Sanderstead CR2 9AB. http://www.dorothyshawbellchoir.org/Brochure1.pdf
The Dorothy Shaw Bell Choir is an internationally acclaimed community handbell choir from Fort Worth, Texas. Founded in 1964 to be a part of the annual Christmas pageant – The Littlest Wiseman, the choir has evolved into a world-renowned musical organisation.
The Dorothy Shaw Bell Choir is truly unique among handbell ensembles in that the ringers do not use tables or gloves, and they perform from memory without a conductor! The choir's members come from throughout the Fort Worth / Dallas Metroplex and are all students from middle school through to college age.
The Dorothy Shaw Bell Choir performs a wide-ranging repertoire – from classical to contemporary. Performances have been in such varied settings as Carnegie Hall with Stitch Henderson & the New York Pops, the Vatican for Pope John Paul II, Carols by Candlelight in Adelaide, South Australia for 30,000 people, retirement centres and churches throughout the world.
February 2014
Chairman's Chat
Hello Everyone,
I am writing this a few days after our Birthday Rally at Benson. Thanks go to Gay and Alan for organising a great day. There should be a report on the event in this edition of the Newsletter, but I must just mention the massed Karaoke ringing, which was great fun, and also to complement Carol Wheeler on her solo ringing. It was really enjoyable, but I know difficult for her to play under the circumstances.
The next events on the calendar are the Four-in-hand Day on 1st February, again at Benson, and then the St. David's Day Rally and AGM on 1st March, at Sanderstead.
I do hope you have all sent in your applications for these.
Whilst on the subject of the AGM, please think about whether YOU could join the Committee. There is a great deal of experience on the Committee, but it would be great to have some fresh thoughts etc. to take us into the future.
The Application form for the Cathedral Service on 8th November 2014 is now available on the website. For a variety of reasons, we have been trying to move the time of the service to the afternoon, but at time of going to print we have not received confirmation from the Cathedral. This should not stop you from applying, but be aware the timings might well change later on.
I will also give you advanced notice of the East Kent Rally This is being held at Petham on 5th October, so those of you who usually go to this, but were unable to do so this year, please put it in your diaries now!
Happy Ringing!
Valerie Boon
Tickets £10 (concessions £5) on the door, or £8 (£4) in advance from www.wegottickets.com, or phone 023 8027 5114 or email aidan@soloringer.com. Family tickets £20.
September 2013
Chairman's Chat
Hello Everyone,
I do hope that you have all had an enjoyable summer, and are now ready to get back into the swing of your ringing.
Since the last Newsletter we had an excellent Summer Rally on 8th June in Aldershot, which was really hot, and the ice creams were very welcome! One of the pieces for massed ringing was 'Pokarekare Ana' and you can find the English words here if you can't get your teeth around the Maori ones!
Next in the calendar was the Nearly Bastille Day on 6th July in Sanderstead. This too was a very enjoyable event, with many French artefacts on tables, and solos rung.
The Kevin Ko concert on 27th July, was also, I am told, an excellent event, but we were stuck on the M25 for an hour and a half, and when we did eventually get off it, we were still only half way there, so we turned round and went home again!
I'm sure you will remember some time ago, that I wrote in the Newsletter about 'Mini-rallies'. I went to one run by Alan Sharps in August. It was for several teams in his area, and enabled teams that had never been to a rally before, to experience it in a cosy way rather than going to a huge hall with many teams. If any of you are still considering running one, I'm sure Alan will be pleased to give you advice.
It certainly doesn't seem like a year ago, but time flies when you're having fun, and the Cathedral Festival is fast approaching on 26th October, with the rehearsal on 5th October.
Happy Ringing.
Valerie Boon
A Virtual Handbell Orchestra
Just over a year ago the Handbell musicians of America put out a video explaining an exciting new project that would bring handbell musicians from around the globe together for a unique musical collaboration. They uploaded what then appeared to be a mish-mash of musical segments and a tempo track, and asked handbell musicians to get creative and record themselves playing as many of those segments as they wanted, to be part of the project. Gay and Alan Cooper joined in the project and they are included playing in the video which can be viewed here.http://handbellmusicians.org/news/e-notes-september-2013/
August 2013
Skyfall
Watch Gay and Alan on handbells, with Matthew Beetschen on the organ and Malcolm Wilson on Piano, performing the theme tune from "Skyfall" in Dunblane Cathedral.
You can also view them on this link on You Tube.
July 2013
Wedding Bells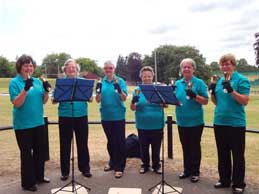 When Bridegroom Paulo asked for bells to be rung at his wedding to Rebecca, he had in mind swinging tower bells, but the chapel of Epsom College in Surrey had no such bells, and so his soon to be Grandmother-in-law, suggested the "next best thing" or was it an improvement? She'd heard the Sanderstead Handbell ringers, and hoped that we might be able to stand in for the missing tower bells. The 2 O'Clock Bells were delighted to help, and six of us rang Angela Jones' s specially composed "Wedding Peal" as Paulo and Rebecca came out of church in a shower of rose petals.
The photo was very kindly taken by one of the young boys attending the wedding. We have yet to get hold of a picture of the Bride and Groom who were of course the important people on the day.
This video, produced by Matthew Richings can also be viewed on YouTube at www.youtube.com/watch?v=r072pwf344w
Nearly Bastille Day Rally
Onions, bottles of wine (empty), Monet's Garden, onions, bakery, guillotines, onions - if it was French it was there at the(Nearly) Bastille Day rally held in Sanderstead on Sat 6th July.
Over a hundred bell ringers met to play some suitably French or macabre tunes, "March to the Scaffold", "Danse Macabre", "Pie Jesu" and the Can Can for fun. We enjoyed solo pieces from many teams and some delicious food provided by the Wandle Ringers. Many thanks to them and to our conductors, Sandra, Keith, Tim, Gay and Martin, for putting on such an enjoyable rally
Don't miss the concert by Kevin Ko and his Quintet, all the way from Hong Kong. Sat 27th July at 3 pm at Christ Church URC, Petts Wood, Kent, BR5 1LH
OXFORD: Wesley Memorial Church, New Inn Hall Street, OX1 2DH
September 2013
Ring From Scratch, Sat 14th September - New Music Suggestions invited.
We shall be leading the Ring from Scratch in Grayshott in September (application form enclosed) and we are thinking of arranging a new piece for it. If you are planning on coming to this event and there is a piece you'd love to be able to play on either two or three octaves of bells let us know. It can be any kind of music – classical, traditional, sacred, popular etc., or we can write variations on a well-known tune. It must be out of copyright (ie the composer died by 31st December 1942). Let us know whether you would prefer two or three octaves.
We'll choose the suggestion we feel most inspired by and that we feel we can make work well on bells and we'll make it one of the pieces for everyone to ring at the event. We'll dedicate the piece to the team or person who suggested it and that team can have free copies of the music – other teams who like it will be able to purchase it after the event.
So send in your suggestions as soon as possible to give us plenty of time to make the arrangement before the event. Either send them in with your application form or write or email us separately (aeolianchimer@googlemail.com) – you don't need to wait until you are ready to send in your application. We reserve the right not to use any of the suggestions received if we don't feel we can make them work well enough.
Gay and Alan Cooper
June 2013
Special Event, Visiting ringers from America
The youth ringers and singers from Trinity Methodist Church, Birmingham, Alabama will be giving a concert in All Saints Church Hall, Sanderstead, Surrey at 7:45 on WEDNESDAY, 5th JUNE.
Admission free – there will be a retiring collection.
SE region members may remember Dan Hermany when he and his previous group, from Lakeland in Florida, gave a concert some years ago in Surbiton. Come and hear his 'new' ringers and singers!
...And hear the Ringers and Singers as well
Ringers and Singers Handbell Choir, Lakeland, Florida
Since 1976, the Ringers and Singers Handbell Choir from First United Methodist Church in Lakeland, Florida, has been making joyous music throughout the world. The group is made up of 28 young people and adults from the church's music program. The choir rings two six-octave sets of English handbells. This gives them over one hundred and forty bells. The bells are cast and hand-tuned at the Whitechapel Bell Foundry in London, England and range in size from the largest, which weighs almost 28 pounds, to the smallest, which weighs only a few ounces. The group also plays two five-octave sets of Malmark Choirchimes.
Since their beginning in 1976, the group has travelled extensively, performing for churches, schools, and the mission field. Some of their tours have included England, Germany, Switzerland, Austria, Scotland, the Netherlands, Barbados, St. Lucia, and St. Vincent. Along with touring abroad, the Ringers and Singers have performed throughout the US and Canada.
The director of the Ringers and Singers is Rev. Lee Lallance, Minister of Music and Fine Arts at First United Methodist Church.
Here is a summary of their 2013 tour in the South East:
Wednesday, June 12, 7:30pm concert at Havering Road Methodist Church Moray Way, Romford RM1 4YD


Saturday, June 15, 10:30am concert at Tattenham Library in Surrey Tattenham Crescent, Epsom Downs, Epsom KT18 5NU


Also on Saturday, June 15, 7:30pm concert at Carshalton Methodist Church Ruskin Road, Carshalton SM5 3DE


Sunday, June 16, 10:30am worship service at Surbiton Hill Methodist Church 39 Ewell Road, Surbiton, Surrey KT6 6AF


Also on Sunday, June 16, 1:30pm concert at Surbiton Hill Methodist Church 39 Ewell Road, Surbiton, Surrey KT6 6AF
Concert in Chobham
29th June, 7.30 pm
St Lawrence Chobham Church
We invite you to join us at Chobham – listen to a fantastic evening of music played on steel pans and handbells, enjoy a complimentary glass of wine and support all the musicians who have freely given their time to raise funds for a worthy cause.
Our friends recently lost their beautiful 4 year old daughter, Ellie. Ellie spent her last few weeks in Helen House Hospice in Oxford - the first hospice in the country to offer care specifically for children and young people – and we are hoping to raise a substantial sum of money for them at our summer concert. All income from this concert will go directly to Helen House to help with the wonderful care they provide.
Please come and help us fill the church - we look forward to welcoming you on the 29th June. Full details and flyer here.
We have just been alerted by Making Music to a nationwide celebration of community music making taking place across the country on the weekend of the 12th – 14 July. This could be an opportunity for teams in your area to get involved in a local musical event and perhaps also attract new ringers. Any teams who are interested in doing something themselves, will need to apply by the 12th May. Visit the Big Gig Website
May 2013
Chairman's Chat
Hello Everyone,
Well at last the weather is almost 'back to normal for the time of year', and the sunshine is finding its way out every now and again! Although a showery afternoon today, all was sunshine in the Harlequin Theatre for the SERBO Concert. As usual the very varied programme was very much enjoyed by the audience, so a big thank you and well done is due to all the ringers, and to Sandra and Keith the conductors.
There were some very interesting percussion sounds in several of the pieces, including Nicholas Lennon, a drummer from the Kingston & New Malden Scout and Guide Marching Band. He joined the ringers for the final piece - Semper Fidelis by John P Sousa, which gave a rousing end to an excellent performance. I understand that there were ten ringers new to SERBO this year. How about one of you writing a piece for the next newsletter on how you found your first orchestra experience?
I look forward to seeing many of you at the Summer Rally on 8th June in Aldershot the Nearly Bastille Day on 6th July in Sanderstead, and the Kevin Ko day on 27th July.
I know I have said this before, but we are always on the lookout for different venues, so that we can hold events in different parts of the region. So if YOUR hall or the School up the road would fit the bill, do let us know - better still if your team would be willing to run a rally in it!
Unfortunately the HRGB membership figures were not available at the AGM, but the following refers to the South East Region as at Spring 2013
We have 3 youth teams with a total of 40 members.
We have 648 registered members in adult teams.
Our total membership, including youth, juniors and independent members is 735, which is 25% of the total membership.
We have 131 teams, which is 26% of the total number of teams.
These figures will probably alter later in the year when the late payers are included.
Happy Ringing, Valerie Boon
April 2013
Chairman's Chat
Hello Everyone,
I have thoroughly enjoyed my first year as your Chairman, and have tried to attend all events held - but I failed on 2!!
I hope you remember that I set a team challenge last year to see which team could attend the most events we hold in the region. I must stress that this doesn't mean just one or two members of a team, but a good proportion of it.
We had 8 regional events, and I have calculated that 52 teams were represented at these.Three teams were represented at 5 events - Finchampstead, Hat Band and St. Lawrence Chobham Three Teams have been represented at 6 events - Lammas Ringers, Pilgrim Ringers and St. Mary's Teddington And the winner this year is Lammas Ringers, who, when they attended always had a good proportion of the team present. Congratulations to them and to the other teams mentioned. This challenge still has 2 years to run, so maybe next year it will be YOUR team who will win!!
I would like to thank St. Mary's Teddington for hosting the AGM and rally, which went off very smoothly despite car parking problems at the beginning.
The other event held since I last wrote, was the Skills Day run by Alan and Gay. This was very well attended and everyone I spoke to were having a great day.
There are a few changes to our Committee - as Meg has resigned from the post of Secretary, I am pleased to say that Sandra has replaced her. Gay is now Vice-Chairman. John and I have taken over the NEC reps jobs from Keith and Martin, who have done it for numerous years, and felt it was time to call it a day - Many thanks to them both.
In future, please send contributions for the Newsletter to Milda Laycock, to whom we offer our grateful thanks for taking on the editorship and distribution of this Newsletter. Thank you Milda.
During the year are the following events, application forms for which are now available:
St. Denys Birthday Rally
and
I do hope you have your tickets for the SERBO concert on 11th May at the Harlequin Theatre, Redhill.
Happy Ringing. Valerie Boon
January 2013
Chairman's Chat
Hello Everyone
As I was unable to do so at the Birthday Rally (I was suffering from a flu-type virus), may I take this opportunity to wish you all a belated Happy New Year. I was very cross to miss the Rally, as I always feel it gets the New Year off to a good start.
Since the last Newsletter, John and I investigated the very outer area of the region, by going to the Ring in Praise at Milton Keynes. What a super space to ring in, and how lovely for two regions to join together. The massed ringing sounded great, and the solos had been well rehearsed. One of these included a vocalist, which added to the whole event. On your behalf I would like to thank Martin Winter for all his hard work in organizing this successful event for many years.
I had a lovely surprise on 18th December when I tuned in to the Chris Evans' Breakfast Show - I heard handbells! Then I heard the dulcet tones of Tim Willetts explaining about the bells. Congratulations Tim and the St Lawrence Chobham Handbell Ringers.
The next event in our calendar is the AGM Rally on 2nd March. I do hope that as many members as possible will attend. I am very sorry to announce that due to personal reasons, Meg Hostler wishes to resign as Regional Secretary. I would like to thank her for all the work she has done for the Region.
With this Newsletter, there is a Nomination Form to join the Committee. I know that experience is important on a Committee - and we have that in bucket-loads, but we also need new (and dare I say, younger) blood, for new ideas to propel us forward. We have the meetings on a Sunday afternoon - with real bell-ringing teas! Do think about whether YOU would like to join us.
And finally, Di Ashton is hanging up her keyboard and mouse after many years of being Editor of this Newsletter. We owe her a deep debt of gratitude for all the hours of work she has put in over numerous years, and for her always getting the Newsletter to me on time to do the photocopying! Many thanks Di, from the Committee and all your readers.
Happy Ringing, Valerie Boon
Checkout our new facebook page...www.facebook.com/HrgbSE. Or click the link on our home page.
July 2012
Inspiration in Wokingham
Meg and Carla from "Inspiration" (Finchampstead Handbell Ringers) rang 4-in-hand duets in Wokingham Town Centre on Friday 27th July, and were joined by local townspeople for the "All the Bells" event. We took bells with us, and an enthusiastic crowd of adults and children joined in with the ringing to mark the start of the Olympics.
2 O'Clock Bells at the station
Sanderstead 2 O'Clock bells rang for the commuters at Sanderstead Station as their contribution to Martin Creed's "All the bells" welcome to the London Olympics.
Watch our videos on you tube: The one where we ring as hard and as quickly as possible and The one where we played "All through the night".
St Peter's Burnham will be taking part in the "All the bells" performance to celebrate the opening day of the Olympic Games
St. Peter's Church, Burnham, (SL1 7HX) will be buzzing with activity celebrating London 2012 from 27th July to 11th August.
On 27th July, as part of the All the Bells project, members of St. Peter's will be ringing as many of their tower and handbells as possible from 8.12 a.m. to 8.15 a.m. There will also be repeat performances at 12 noon and 4.00 p.m. There will be opportunities to see and play on the church's 5 octave set of handbells and to feel what it is like to ring a 200K tower bell. Just turn up between 8.00 a.m. and 5.00 p.m. and join in. If you want to bring a large number of people, it would be helpful if you could let Cliff Blundell (on 01628 602194) or Cornerstone Office (on 01628 664338) know in advance. Light refreshments will be available.
Sanderstead's 2 O'Clock Bells will be ringing at the station
The 2 O'Clock bells will be joining in by ringing folk tunes to the commuters at Sanderstead Station between 8 am and 8.30 am, and ringing particularly loudly and fast from 8.12 - 8.15 am.
Ringing for Gold
Ringing for Gold is a remarkable and readable historic account of the origins and development of tune ringing on hand bells. Written by Peter Fawcett it has been edited by Philip and Don Bedford and will be available for the first time on the HRGB stand at the National Symposium in Liverpool.
'Ringing for Gold' is a hard-backed, 350-page book with 150 historic photographs and illustrations. It will be published this summer at a price of £38 plus £4.90 postage (UK). To Order, please send a cheque for £42.90 to Don Bedford, Penrhiw, Llwyn-y-brain Hill, Ciffig, Whitland, Carmarthenshire, SA34 0NG. Tel/fax 01994 240593, or contact akaneandphilip@yahoo.com.au to order through 'Pay Pal'. More details on www.ringingforgold.co.uk
---
May 2012
Jubilee Rally at Aldershot
Some pictures of the fun at the Jubilee rally taken by Ros Ingram
The Jubilee rally at Aldershot organised by the Roland Ringers under the leadership of Keith and Wendy Roland began with everyone setting up the most amazing bell tables covered in all things Jubilee which evolved into a fantastic sea of red , white and blue.
Throughout the day such wonderful pieces as Land of Hope and Glory, Rule Britannia and Trumpet Voluntary were rehearsed under the directorship of a number of different conductors, each with their own special style. Some of the pieces were accompanied by drums, symbols and a gong which added to pomp and ceremony of the whole day. We also did a processional around the hall devised by Sandra Winter and the afternoon was completed by a traditional cream tea followed by the final concert. I think I can speak for everyone when I say that a good day was had by all!
April 2012
Berkshire Handbell Team Honoured
Inspiration, an initiative of the Finchampstead Handbell Ringers has been honoured to be nominated for a Queen's award for voluntary Service 2012. The Inspiration handbell trio entertains in local care homes, sheltered housing, day centres and scouting movements, and is delighted to have been nominated for this award.
Follow this link to watch them on youtube. For more information contact them on www.finchampstead-handbells.co.uk
Your team could run a rally
Could your team run a handbell rally, or a mini rally? The committee members would be happy to give advice to any team who could put on a rally for a few of their local teams, or for a larger number of ringers. Volunteers are particularly needed to host the Birthday Rally next year, which is usually held on the first Saturday in January.
A new Honoured Member
Congratulations to Pauline Dover of Sway Handbell Ringers, who has been made an Honoured Member of the South East Region. Pauline received her award at the AGM at Brockenhurst on 3rd March for her many years of support of the art of handbell tune ringing.
Stop Press...CELEBRATON CONCERT...
We are delighted to welcome the American Church in Paris ringers, MD Fred Gramann in concert with Rowland Ringers. 7.30 pm Sat 17 March 2012, High Cross Church, Knoll Road, Camberley, Surrey, GU15 3SY. Tickets £10 from Keith Rowland. Tel 01252 409438
Welcome to two new teams
We welcome two new teams to the HRGBSE region, All Saints' Chimes, Crawley Down, and The Middlesex Ringers have joined this month. We wish them many happy years of ringing within the HRGB.
CALLING ALL YOUNG RINGERS
Do you have any ringers in your team who are under 18?
Do you have a local school who have a handbell or handchime team? (or even a set of bells or chimes that are not being used?) Do you know of any young ringers in other teams?
I am trying to build up a clear picture of young ringers in our region, in order to try and tailor some events specifically towards them. I know of some youth teams in our region, and youth members of adult teams, but I'm sure there are more! And this is where I need your help! If you have answered yes to any of the questions above, then please get in touch with me. Don't worry about whether someone else will send me the same information – I would rather have four emails telling me something, than none at all!
So, can you help? If so, drop me an email youngringers@hrgbse.org.uk. I look forward to hearing from you!
Helen Secker (SE Region Youth Rep)
March 2012
Bell Concert at Didcot on 17th March
Alan and Gay will be performing at a Concert to raise money for Wantage Counselling Service
Saturday 17th March at 7.30 pm at the Cornerstone Arts Centre in Didcot OX11 7NE
Tickets £10 from 01235 515144
Other acts include a Paraguyan Harp Duet, a Ladies Barbershop Quartet and Irish Dancing. Click here to download the full programme.
February 2012
RING FROM SCRATCH AT TOLWORTH
In sub zero temperatures at the beginning of February, 35 dedicated handbell ringers braved the cold to attend a Ring From Scratch day at Tolworth. The day was led by Keith Rowland who also conducted, ably assisted by Sandra Winter who presented and conducted a "World Premiere."
The idea of "Ring from Scratch" is that we are all given the pieces of music on the day and we decide which bells we are going to ring. Sometimes, these are different from our normal bells which can be a greater challenge but also great fun. I decided to ring E6 and F6 and found that I was in between Martin and Sandra Winter! "No pressure there, then" I thought. Was there some obscure connection between my position and the title of the first piece "Nearer My God To Thee"? The music had some interesting key changes and accidentals which proved quite challenging. Personally I found it difficult to pick out the melody, but perhaps I was listening for a different tune!
Next, it was Malcolm Wilson's composition "Celestial Charm" which some of us had the pleasure of ringing at the Birthday Rally in January, so we felt as though we had an advantage and enjoyed it more the second time around. He certainly has a gift for creating wonderful music. During this piece, I tried to emulate Martin's elegant style of off table ringing, but was politely told by Sandra "not to bother!" (Was it because she thought I was rubbish, I thought? No, she was afraid I would cause a muscle strain!) We then played The Bells of St. Mary's which happens to be the signature tune of St Mary's, Teddington. This is arranged by Michael Akers and is a very well known piece which was less demanding than the previous pieces and most enjoyable to play. I think several of us will be hoping to take this back to our own teams.
After a well deserved lunch and general discussions about bell matters, we played a beautiful arrangement of Karen Lakey Buckwalter's "Season of the Heart." What a beautiful piece this is, rich in melodic and harmonic content, interesting key changes and wonderful use of chimes. The melody was singing on my mind for days after.
The final piece was Sandra Winter's arrangement of Air and Hornpipe from Handel's Water Music. This was a World Premiere and copies were distributed to us all and I duly punched the holes. There was no time for planning, so we were called to play and soon began to nod our heads to the familiar melody. However, after a few pages, Martin and I noticed that there was a lack of continuity of key and rhythm! Helen came to our rescue by turning over our page of music when we found that we had been trying to ring page 5 of the Hornpipe instead of page 3 of the Air!!
I couldn't ring for laughing! That will teach me not to look at the music before punching the holes! Both tunes were simply written with great harmonies, a typical Sandra Winter arrangement, if I may be so bold. Ideal for playing on a boat during the Jubilee Celebrations.
After tea with scrumptious cakes, we played all the pieces again and realised how many hours had passed since we had played the first piece, but we put our heads down (not what the conductor wants!) and got through to the end. We packed up and reflected on what was a most interesting day, playing some challenging music, learning a lot and having fun with like-minded people.
Carol Wheeler Barfield Ringers
January 2012
Sue de Gautier R.I.P
Sue de Gautier, a well known and popular figure in many voluntary spheres, lost her long-term battle against cancer just before Christmas, on 19 December. Her passing has left a large gap in many people's lives not least of all the folk who live at Lord Harris Court in Wokingham where Sue was a regular helper for many years.
Among the handbell-ringing fraternity too, in particular her home team Finchampstead Handbells (FHR), she is sorely missed. A loyal friend, Sue was also a trustee of FHR, as well as prime fund raiser. It was through her efforts to raise funds for lightweight portable equipment that FHR's work in local homes for the elderly was able to continue. FHR have now entertained thousands from Berkshire's sheltered housing and residential/nursing homes, in addition to giving demonstrations to schools, women's institutes, and groups within the scouting movement.
Sue was passionate about and committed to her handbell ringing and the opportunities it presented to help others. She was the base-bell ringer of the four-in-hand trio "Inspiration", as well as being a regular member of FHR, and the South-East Region Bell Orchestra. Whilst thrilled to meet and ring for HRH Prince Philip at a Berkshire Community Foundation event in 2008 to honour the work of voluntary groups in the county, Sue's main delight was to ring for the elderly in the community and then to take time to listen to the memories that the music may have stimulated.
1½ years ago, Sue joined FHR founder and team leader Meg Hostler to work with and teach local youngsters the art of handbell ringing. The Bell Buddies as the youth team became known remember Sue with much fondness. Sue was ever mindful of the therapeutic value of bells music for both ringer and listener and, even at the last, she had been considering ways of fundraising to refurbish for posterity the antique set of handbells recently donated to FHR by St Margaret's Convent, Uckfield. Sadly her illness overtook her plans.
Sally Hamblin
December 2011
CHRISTMAS CONCERT FUN DECEMBER 22
There will be a concert on Thursday 22nd December at 7:30 pm (doors open 6:00 pm) at Benson Parish Hall, Oxfordshire to feature Gay and Alan, Pizzazz Handbell Trio and Wallingford Ringers. The concert will comprise solo, duet, trio and larger group music. There will also be a chance for ringers to ring and for everyone present to join in a fun ring of Jingle Bells and some party style diversions for ringers and non-ringers. In addition to celebrating the Festive season this event also marks Alan Cooper's Big Birthday and he is keen to have a fun event to celebrate as it only happens once.
Please come and contribute to the jollity, and feel free to bring friends, family etc as well as anyone you know who might be interested in learning more about ringing!
Cost per person is £7.50 on the door, £4 for under 18's to include a drink and hopefully some light refreshments as well as tea and coffee for those who would like something hot. Do feel free to bring a bottle to pool (or drink yourself) if you would like to drink more. We shall provide some light refreshments but any donations of finger food will be gratefully received.
Although we might use the odd flat or sharp there will be no bell changes in anything we all ring so you won't need team tables, foam etc, but it will be helpful if you can bring bells (don't worry if you can't). We would be grateful if you are happy to allow some of your bells to be used by others (ringers and/or non-ringers) as we would like as many non-ringers as possible to be able to join in with Jingle Bells.
For more details email aeolianchimer@googlemail.com or mobile 07527575861. Email if you can to give us some idea of numbers, or just turn up at the door.
Pizzazz in Tallin
Alan and Gay and Carla, Pizzazz in other words, performed at the Bell Art Festival in Tallin during the summer. They were spotted by Lynda Barclay from the Scottish Region, who wrote up the event in her newsletter, and has kindly agreed that we could copy it. Click here to download a copy of her article.
---
October 2011
Bell Orchestra Change of Date
Please note that the Bell Orchestra first rehearsal date has been changed. It will now be on Saturday 12th November starting at 10.30 am at St Georges Church, Tolworth.
Welcome
To our newest team, Aylesford Handbell Ringers from Alyesford near Maidstone in Kent.
September 2011
News from Gay and Alan
Note change of time and channel from first posting
Gay and Alan write "We will be appearing in "Big Brother's Bit on the Side" on Channel 5star at 10pm on Sunday 18th September, please note this is an adult programme!"
You can also find Gay and Alan on Twitter,@Gay_and_Alan and Facebook www.facebook.com/GayAndAlanOfficial
Chair SER HRGB
Wantage Betjeman Festival, Saturday 17th September
Pizzazz Handbell Trio will be performing at the Wantage Betjeman Festival, 7.30pm on Saturday 17th September. Tickets £8.50 phone 01235 770378.
Concert in aid of Steeple Aston Tower Bells
A concert will be presented by Wallingford Ringers and Pizzazz Handbell Trio at Steeple Aston Village Hall (Oxfordshire) on Saturday evening 10 September at 7:30pm in aid of raising money for new Tower Bells. Tickets from Sally Cooper 01869 347172, or Graham Clifton 01869 347273. They cost £10 each, concessions £8.
Welcome
Welcome to our newest team, The Gore Ringers in Burnham, Bucks.
Chocolate Rally
Who could resist this rally? Well organised by Wandle Bells in Sanderstead, the church hall was bursting at the seams with bell ringers, who had gone to great lengths to think up some links between music and chocolate - some more tenuous than others, but all with good excuses to distribute sweets to the assembled ringers.
Sandra, and Angela conducted everyone in some massed ringing challenges: "O Sole mio" (just one cornetto) complete with cornet shaped baton, "For the (Chocolate)fruits of his creation", and "The dance of the Mirlitons" (Cadbury's Fruit and Nut case). Teams played their own solo pieces, including "The arrival of the Queen of Sherbert" which won the prize for the most tenuous link but was a very tricky piece very well played. Everyone enjoyed a splendid tea, and a very good day of bell ringing.
News from Pizzazz
News and photos of Pizzazz's recent trip to Estonia can be found on their facebook page www.facebook.com/PizzazzHandbellTrio. They attended the Bells Art International Handbell Festival as the invited group from the UK. The facebook page (which is accessible to non-facebook members) includes photos of Tallinn ( European Capital of Culture 2011) and of handbell teams from Estonia, Finland, America and Japan as well as of Pizzazz performing in the Town Square and giving workshops as well as some new videos.
Welcome
Welcome to a new team in our region; All Saints Guildford Handbell Team have 13 ringers including 3 junior ringers
June 2011
Stop press
Our very own famous duo, Gay and Alan, will be playing live on Radio 1 on Thursday 9th June, at about 1.30 pm on the Greg James show - not to be missed. And if you can catch it, listen to his trailer for them which can be found on BBC iplayer at 56 1/2 minutes into Greg James' show on Tuesday 7th June.